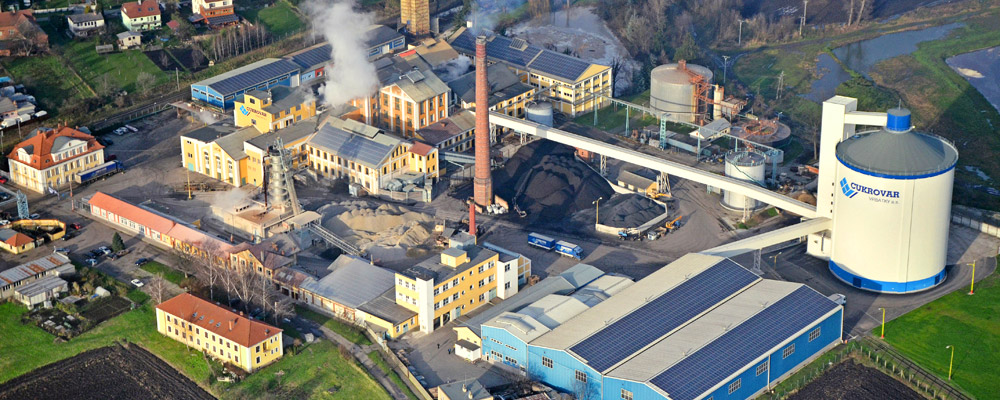 Cukrovar Vrbátky a.s.
The Vrbátky Sugar Factory was founded in 1870 as the first agrarian joint-stock sugar factory in Moravia, and existed in this form until 1948 when it was nationalized. During the next five decades, it was part of several state-run enterprises associating sugar factories of southern and central Moravia. On 1 May 1992, the Vrbátky Sugar Factory transformed into an independent joint-stock company. In 1995, the shareholding structure changed and has remained almost the same since then.
The Vrbátky Sugar Factory is situated in the Haná region, between Prostějov and Olomouc. This is the best area for sugar beet growing in Moravia. Sugar beet has been grown in this region for more than a century, becoming part of the traditional crop rotation scheme. Since the beginning, the sugar factory has placed emphasis on increasing the sugar beet processing capacities. While the daily processing capacities were between 100 and 200 tonnes of sugar beet in the 1870s and 1880s, this increased to 1,100 tonnes of sugar beet per day after an extensive renovation in 1935/1937. The factory worked under this regime until the 1980s. Since 1995, the sugar factory has been gradually modernizing and increasing its sugar beet processing capacities again. The current capacity is 2,200 tonnes of sugar beet per day. During a campaign, the plant processes approximately 250,000 tonnes of sugar beet and produces 35,000 tonnes of sugar.
The company now builds on its tradition of more than 140 years of quality production, which is not just a business slogan, but the quality of our sugar is based on the up-to-date stainless steel production technology, able to comply with all customers' demands as regards the sugar types and packaging.
In addition to granulated and castor sugar, the portfolio includes powdered sugar, sugar cubes, bridge-shaped cubes, cane and brown sugar. The plant supplies sugar for both food industry and for retail. Over-the-quota production is intended for the pharmaceutical and chemical industries and for exports to non-EU countries.